While I don't wear clothing fresh off a runway, I do appreciate
when celebrities sport some awesome picks. I may not follow
these celebrities devoutly, but I do keep my eye on their fashion choices.
Here are some of my favourite actresses and their
excellent fashion choices.
Jessica Szohr wearin' Jenny Packham to the MMVA's. The colour of the this
dress calls out to me and all I can reply is YES YES YES! I am very excited to see what
she will be wearing in next seasons Gossip Girl!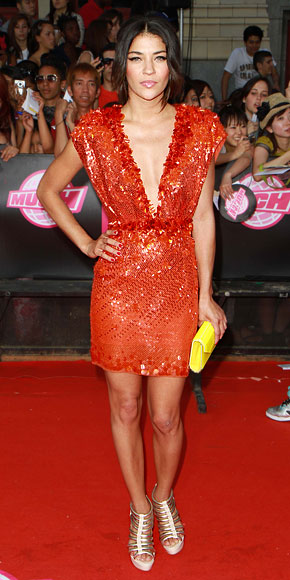 Emma Watson displayin' Burberry dress at the
Burberry Prorsum's Spring 2010 show.
I've never been a fan of gold, but I love this dress! I especially appreciate
the zipper detail down the middle of this dress.
Angelina Jolie. Now here is an Actress that doesn't opt for a lot of glam or colour (rather elegance), but she
caught the attention of everyone when she wore this
strapless Atelier Versace dress
for promotion of her new Movie Salt. Those peep-toe heels are extra cute!
Now here's a fashion influencer that has even inspired hairstyles. Victoria Beckham
gives business attire an edge.
Victoria Beckham Pictures
True Blood fans will recognize
Anna Paquin
wearing the super sexy Stephen Moyer, I mean... Alexander McQueen dress. I've seen this dress on everyone from Salma Hayek, Naomi Campbell to Kate Moss and I love it on each and every one of them!
I just can't help myself, I have to throw this one in the mix:
This photo reminds me that fall is only a few months away. My favourite season, Emma Watson's outfits make me all shades of envy. Even though this is the Burberry 2009 Fall/Winter Campaign, I crave that scarf and purse in every shade of envy.
While I could probably ramble on all day about stars and the clothes
they wear,
I'll end it here for now. I'm off to think about all the clothing
pieces I want to add to my wardrobe!